Houston Cafe Shutters Give Your Home A Unique Look
Café shutters (sometimes known as half-height shutters) can totally change the look of your kitchen, dining room, or breakfast nook. Café shutters put the beautiful louvers and classic looks of Houston plantation shutters on the bottom half of windows, with open space above that lets light come in.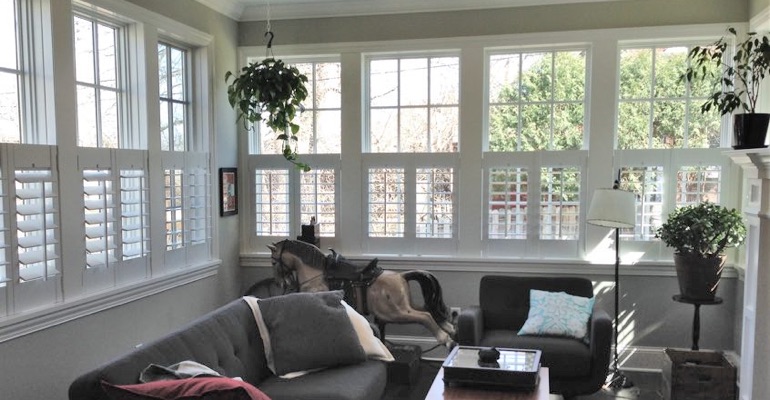 The Reason for Houston Café Shutters
Café shutters are more than just the bottom half of a set of plantation shutters, though. They're a whole window treatment in their own right, designed to let in some light all the time, yet still maintaining your privacy. This makes them perfect for tall or high-wall windows in your space. Cafe shutters are also great for rooms that you want natural light to shine in such as the kitchen or dining room.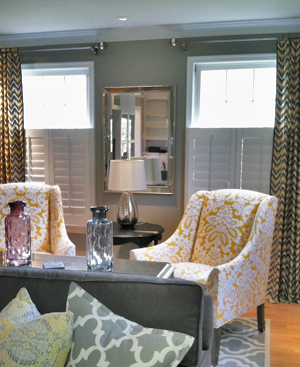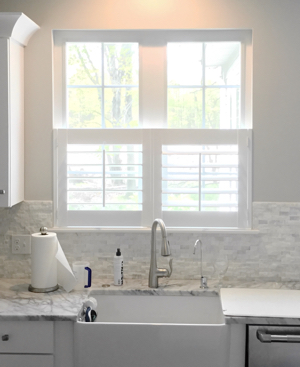 Café shutters are able to pair with just about any other window treatment, if you'd rather not keep the top of your window frame bare. Match natural wood café shutters with an earth-toned valance for that classic café feel, or pair white faux wood cafe shutters with some solid drapes for a more up to date look. There are many possibilities when you can make use of natural light, beautiful plantation shutters, and your imagination.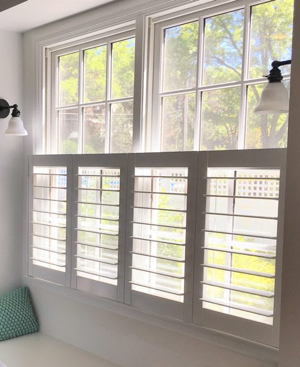 You might be wondering, "But wouldn't I just be better off installing standard shutters on my window?" There's no right or wrong answer here, as every home is unique. Ask your Sunburst Shutters sales rep for help choosing the best fit for your windows
But if you want the benefits of both cafe shutters and full shutters. If that's the case, you want plantation shutters with a divider rail.
Divider Rail Shutters Give You The Best of Both Worlds
Divider rail shutters the full frame of a standard set of window shutters, with an extra feature. On most shutters, each louver will adjust together from top to bottom. Divider rail shutters have two halves that move separately, meaning that you can tilt the top half of your louvers without moving the bottom, and the other way around.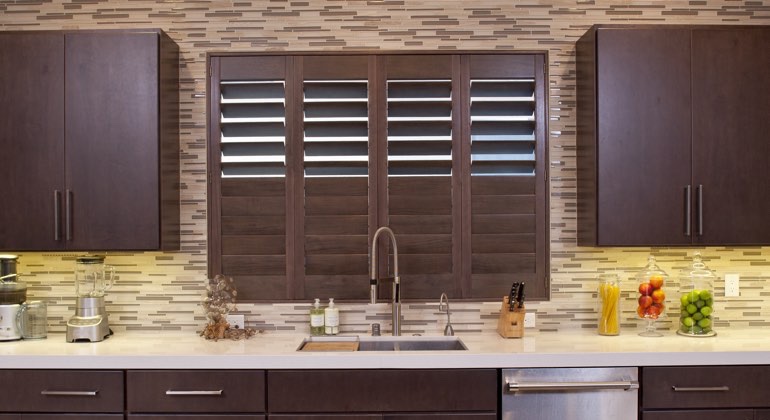 With divider rail shutters you basically have all the advantages of café shutters, but without leaving one half of the window permanently uncovered. You can fully close your shutters for privacy, and to keep your home more comfortable. And when you tilt the top louvers horizontally, they're barely noticeable, giving you that same café shutter look if you ever want it.
Get Café Shutters in Houston Today!
So are café shutters or divider rail shutters right for you? It comes down to your home's unique needs, design, and your own personal taste. If you're stuck in the decision process, Sunburst Shutters Houston would love to help.
Call Sunburst Shutters Houston at 713-853-9629 or fill out the contact form below to schedule a free in-home shutter consultation with our design experts today.