What Window Treatments To Choose For Your Houston Custom-built Home
When you're building a custom home in Houston, you seek the best finishes possible, and that includes the window treatments. There's a reason plantation shutters are a leading choice in window treatments for custom homes in Houston. Their unique design and style blend in with all decor types and allow you total authority over sunlight. With this in mind you have the ability to produce an inviting atmosphere and accentuate the enticing features of your custom home.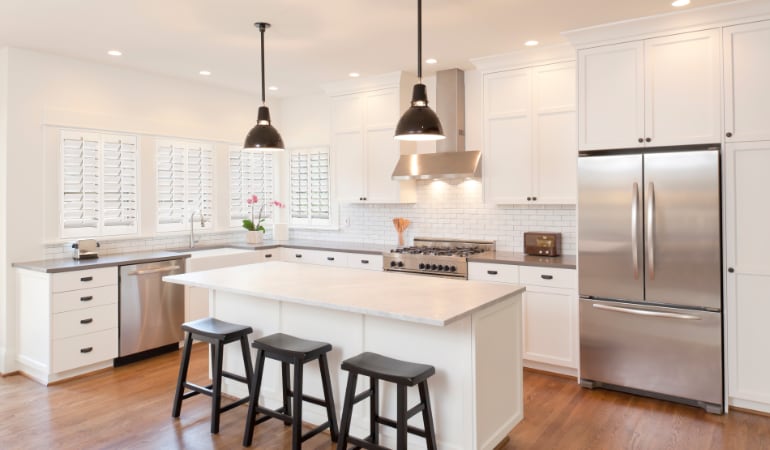 In What Ways Do Plantation Shutters Enhance a Custom Home?
If you are looking to to increase the allure of your custom home, select window treatments that residents in Houston use to enhance their homes. Plantation shutters blend beautifully with any design choice. They stand out and make a home memorable to onlookers who may be more familiar with outdated drapes and metal blinds. Their functional yet distinguished construction requires no extra dressing to provide a dazzling dynamic and ensure a positive influence on family and friends.
Plantation shutters are a smart finish for a custom-built home. The sharp design and adaptable color options complement any style of home, so you are able to advise the home builder to include them in each window and not have to worry how they will match once you furnish your home.
Fully customizable, this window treatment works for both standard windows and windows with specialty shapes, so you are able to install them in any location and save yourself the hassle of picking different window treatments for each room. You benefit from having a task lifted from your plate as you figure out your remaining home finishes!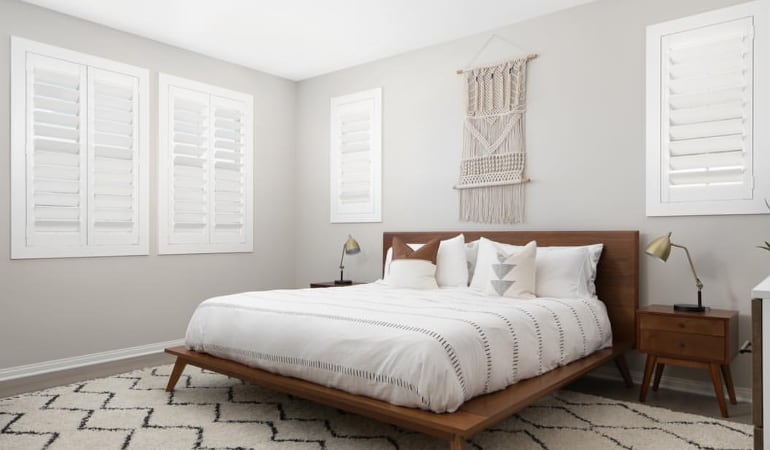 How Do Plantation Shutters Let Homeowners Control Light?
Everyone loves the appearance of a sun-splashed home. Although you are likely to select beautiful electric lights to illuminate your custom home, sunlight has distinctive properties that give an area a larger appearance or change its overall feel.
Despite its many benefits, natural light is constantly changing. Over the course of a day, the level of sunshine coming through your windows changes, and you must change the positioning of your window treatments to direct the sunlight appropriately. When trying to find window treatments for custom homes in Houston, people show a preference for faux wood Polywood® and classic wood plantation shutters that help them control the amount of natural light a room receives.
Simply adjust the tilting mechanism to partially close the louvers at times when windows receive direct sunlight to give a room a softer glow and open them again to make things brighter when the sun is on the other side of the house. You might also swing back the shutters from the hinges for full sunlight to create an impression of being outdoors and fasten them again for a snug, closer-knit feeling.
Altering the slat angles also allows you to redirect light. When moving the slats in either direction, you can lighten dark corners to make your home appear larger. You have the ability to filter excessive glare away from your guests' sightline and flat surfaces that reflect without shutting the slats and eliminating the light altogether. With one simple motion, you can direct the placement and the amount of daylight that shines in each space for everyone's comfort.
Get The Top Window Treatments For Your Houston Custom Home
Show your new home in the best way possible with the endless appeal of plantation shutters by Sunburst Shutters. We are your source for elegant window treatments that Houston residents want for their custom-built homes. Contact us at 713-853-9629 or complete our simple form to get started with a free in-home design consultation.