Great Nursery Window Treatment Ideas In Houston
As an expecting parent in Houston, your goal is to have every detail of your bundle of joy's nursery perfect -- and that includes the window treatments. But before you pick out any window covering, don't forget that functionality and safety are essential. Infants can yank down drapes or become tangled in the pull cords of blinds. These coverings aren't able to block exterior light and drafts for good sleep either. As an alternative, install safe, efficient louvered shutters or cellular window shades as window treatments for your nursery in Houston.
Plantation Shutters Make Your Nursery Cozy, Safe, And Stylish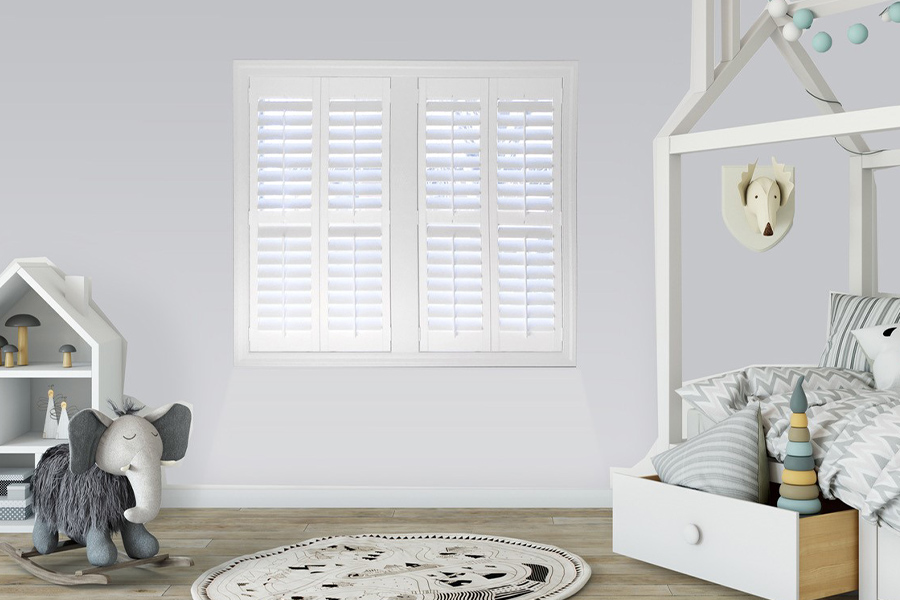 Interior shutters maybe aren't first on your list for nursery window treatment ideas in Houston, but they ought to be! These superior window treatments look amazing in every area. Their louvered panels provide an eye-catching accompaniment to the softer elements typically found in a baby nursery. You could use
white faux wood Polywood® shutters
in rooms with vivid or pastel colors. Natural wood shutters may work better if your nursery has nature-themed components or you would like to match existing wood trim. And when you modify the design as your loved one gets older, your shutters will still coordinate with the area's refreshed appearance.
Plantation shutters feature a unique layout that makes them ideal for little ones' spaces. As an alternative to using drapes or cords for a baby or toddler to pull on or become entangled with, interior shutters utilize rigid panels with movable louvers set in a frame around the window. They even clean up with ease whenever they get those inevitable smears from small fingers.
Shutter louvers and panels give you several methods for directing sunlight and privacy in your nursery as well. Swing back the panels for a sun-filled play area or fasten them and tilt the louvers toward you to welcome some sunshine and shift it toward the spot where your little one plays. Then secure the panels and louvers to keep out virtually all outside light for naps and bedtime.
Shut louvered shutters block cool breezes as well. Air won't get past real wood and faux wood as it can through fabric window treatments. And our 5-star Ovation® and Polywood shutters use the finest craftsmanship to diminish gaps where air slips through. Polywood shutters also have exclusive weather sealing that causes them to be the most energy-smart nursery window treatments in Houston and ensures your space remains cozy for a pleasant rest.
Cellular Shades Bring Added Efficiency and Adaptability To Nursery Windows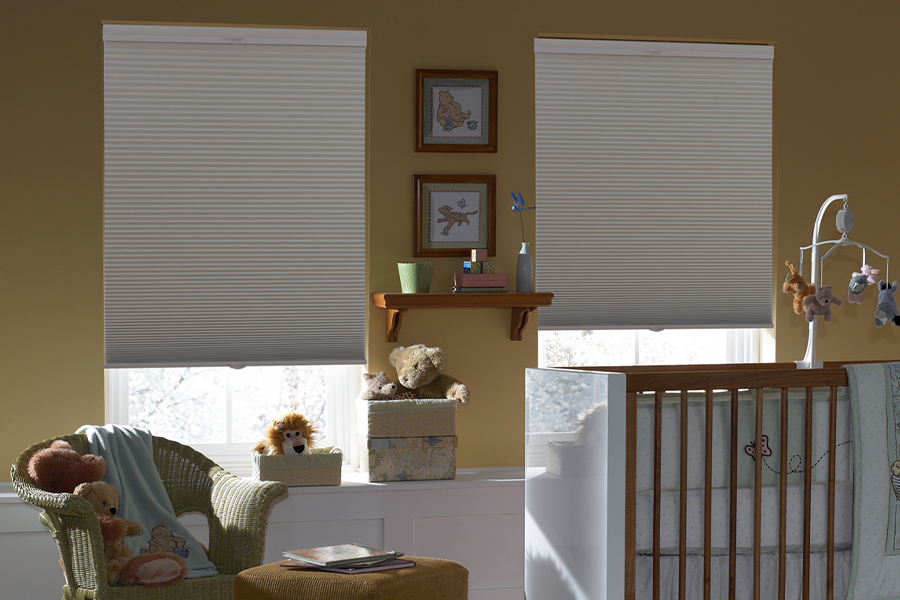 If you prefer a softer texture for your nursery window treatments,
choose cellular window shades.
These products come in various patterns, materials, and colors for you to pick from. You'll even discover other kinds like top-down/bottom-up shades that offer extra adaptability with sunshine and privacy or cord-free shades that your little one can't get caught up in.
The top advantage of cellular shades is their superior efficiency. Their unique design consists of little pockets that trap air coming through your windows before it infiltrates the nursery. They assist in keeping the room at a consistent temperature and energy expenses down.
Looking For Additional Nursery Window Treatment Ideas In Houston? Talk To Sunburst
Regardless of whether you need nursery window treatment ideas in Houston or choices for a separate area of your home, Sunburst Shutters Houston has your solution. We customize a variety of window coverings that make your property more stylish and comfortable. Call us at 713-853-9629 or submit the form below to arrange a no-cost on-site consultation and find amazing window treatments in Houston.