Cellular Shades Vs. Plantation Shutters In Houston
Houston homeowners commonly look at cellular shades and plantation shutters when they're seeking an energy-efficient window treatment. After all, both options will stop a certain level of thermal transfer when closed. But are there other advantages in addition to exceptional energy efficiency when considering plantation shutters vs. cellular shades in Houston?
Keep reading for a few recommendations to help you determine which window treatment works best for your property.
Choose Plantation Shutters For Superior Light Control, Energy Savings, And Durability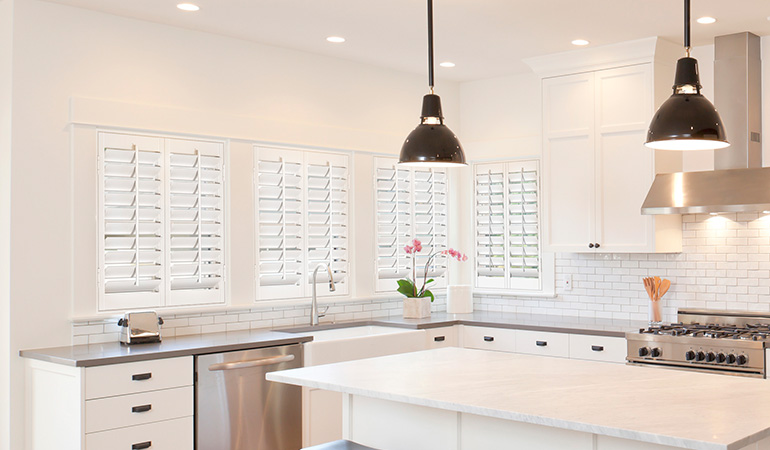 In the comparison between cellular shades vs. plantation shutters for Houston, shutters are typically the superior solution. Their hinged panels and tilting louvers provide various choices for controlling privacy and the level of sunlight that is allowed inside. In addition, the strong synthetic-wood frame covers the perimeter of your window to keep heat and natural light from getting past.
Interior shutters also provide unparalleled energy savings. When closed, they block the chilly drafts and toasty ultraviolet rays that slip through your windows. Polywood® shutters were designed as a means of insulation with exclusive weather protection that staves off nearly all external air and prevents as much as 30 degrees of thermal transference from windows. They'll maintain the comfort of your Houston home throughout the year and lower your utility bills.
Polywood shutters also make sense as the sturdiest window treatment. While window blinds and shades will display damage and weathering after a few years of use, Polywood shutters last a lifetime. Their composite wood is resistant to damage from humidity, extreme hot or cold, insects, and ultraviolet rays. They don't wear out from regular use and do well with knocks from playful children and pets. You may put them in any room of your home, and they'll look incredible for as long as you're in the home.
Go With Cellular Shades To Bring Beautiful Colors And Energy Efficiency To Your Home
When you're picking between plantation shutters vs. cellular shades in Houston and wish to have a soft or colorful window covering, cellular shades are a smart choice. These textile window shades can be found in a a wide range of styles and colors. It's easy to locate cellular shades to match your existing decor, whether you seek a subdued neutral color or a vibrant statement-making tone.
Although not as much as shutters, cellular shades will make your interior better at conserving energy. The cloth is fabricated into bellows-like pleats that come together neatly if you pull up your shades. Alternatively, when you pull them down, those pleats create "cells" or pockets. These cells and their layers of fabric trap air and stops it coming through your windows before it enters your Houston house.
Get Help Picking Between Plantation Shutters Vs. Cellular Shades In Houston
You don't have to choose window treatments without guidance when you consult with Sunburst Shutters Houston. Our four decades of supplying and installing window treatments have led to our becoming experts. Call us at 713-853-9629 or complete the form below to arrange a complimentary in-home consultation. We'll give you access to samples, demonstrate how differing window coverings work on your windows, and help you find the ideal choices for your interior.