Houston Window Treatment Ideas For Doors with Half Glass, Full Glass, And Custom Windows
An entryway with built-in glass looks lovely in your interior and lets in natural light. But what if the entrance is constantly blasted by the sun or allows nosy neighbors a clear view into your Houston house? Roman shades, transitional shades, and plantation shutters all provide appeal and protection if you're looking to install Houston window treatments for a door with half glass, total glass, or specialty window types.
Incorporate Durable Shutters For Attention-Getting Houston Window Treatments On Doors With Half Glass, Full Glass, And Round Windows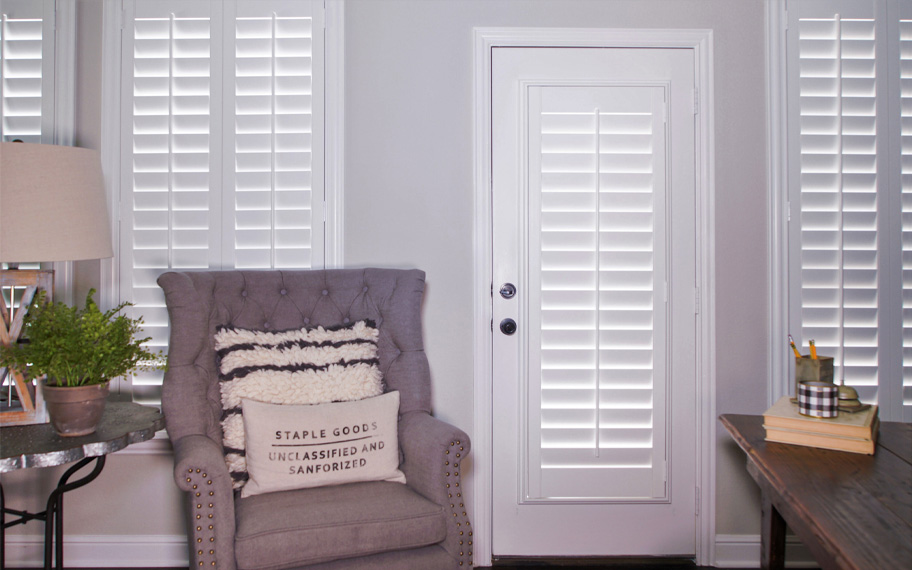 Your entryway is always something visitors notice about your Houston home, so your window treatment needs to make a positive impression. Interior shutters look amazing on doors. This product lends an appealing design element to your entrance, and the movable louvers allow you to adjust the levels of light and privacy. Plantation shutters are also preferred Houston window treatments for doors with half glass, complete glass, and customized glasswork since they can be fabricated for all sizes and shapes of windows. Made-to-order shutters will fit an [[arched or circular window's shape]67] when other options can't.
Faux-wood shutters are the sturdiest window coverings you can choose for a door. They can withstand knocks from children and dogs charging past the door, and messy prints from hands and paws clean up in a cinch. These tough window treatments resist warping and splitting due to cold air or humidity entering past your door. And they'll never smack or swing against the door like traditional metal blinds would. The end result is they stay looking beautiful for longer..
Install Roman Shades To Control Sunshine With Style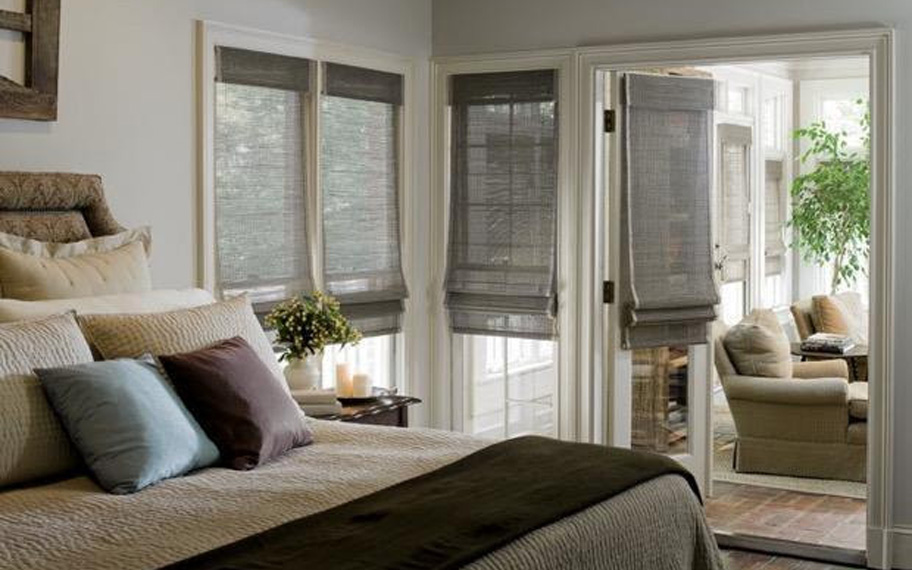 Doors featuring glass panels are great for your design aesthetic but might cause an issue if they let in the sun's glare. Fashionable Roman shades are fantastic Houston window treatments for doors with half glass or whole glass due to the fact they can be purchased in a range of transparency levels. When your door faces east or west, you can use an opaque shade to minimize direct sunlight. If you have a structural or natural element that will offer shade, a less opaque choice will let in softened light. You can also consider versatile top-down/bottom-up products for a bit of sunshine while still maintaining your privacy.
Roman shades also come in many colors and patterns to coordinate with your Houston property's unique design. Shades with eye-catching patterns or colors dress up what is likely a simplistic door. In the event your entry has tinted glass or a beveled edge, select a shade of uniform color so you can avoid using a pattern that clashes with the glass design.
Use Zebra Shades For The Ultimate in Light Management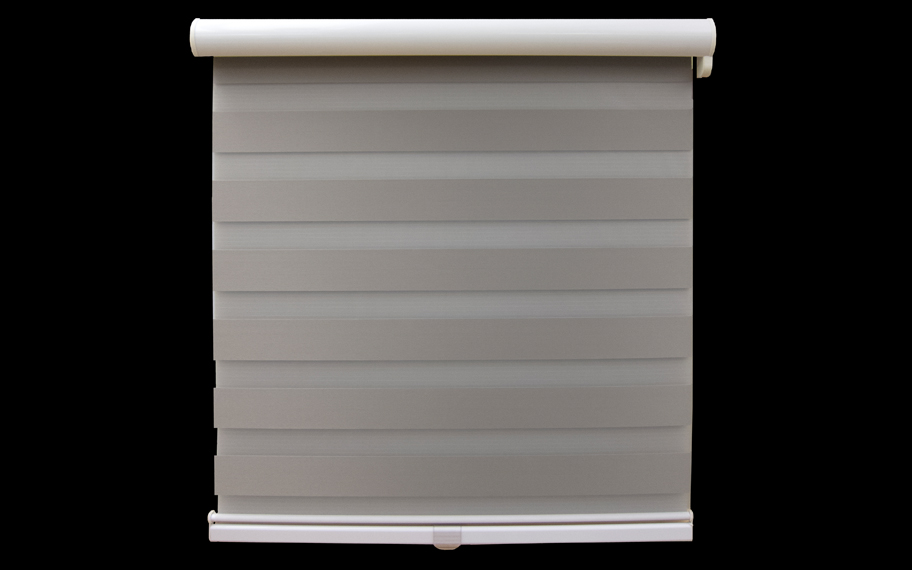 Zebra or transitional shades combine the function of privacy with flexible light control. They are thin and remain next to the door. Transitional shades are a unique take on roller shades as they feature a constant loop of material with solid and sheer segments in alternating stripes. The orientation of the front and back panels can be adjusted so you are able to view outside through the sheer fabric and bring in filtered sunshine or line up the non-transparent lengths over the sheer to block the light and view completely.
Transitional shades can be purchased in a variety of colors, patterns, and fabrics. You can also choose how to adjust your zebra shades. When affixing to a door, you most likely want cordless products as cords can get twisted or trapped around the hinges. If you want convenience, you may select an electric-powered option that opens and closes with the push of a button if you desire to alter the amounts of privacy and natural light.
Enhance Your Door With Shades And Shutters From Sunburst Shutters Houston
At Sunburst Shutters Houston, we supply only quality crafted window treatments for your doors and all the additional windows in your Houston home. Simply tell our knowledgeable staff , and we'll recommend attractive and functional options for each and every room. To start with a free in-home consultation, call us at 713-853-9629 or submit the form on this page.