Approximating Plantation Shutter Costs in Houston
There's a lot of reasons that Houston homeowners purchase interior plantation shutters. Their stunning looks, peerless energy efficiency, and discriminating light control are just some of the perks of going with shutters as a window treatment. But when you're planning a home addition, you might want to keep final costs in mind. "How much will plantation shutters cost?" is one of the questions we usually hear during a consult.
Because each Houston home is one of a kind and there is such a variety of shutter options to choose from, there's never a solid answer to that question if a project isn't fully appraised, and if awindow treatment company tells you an upfront price without asking about your individual needs and wants, you may not end up with what you were looking for.
If you're aware of the factors that can affect the price of your shutter project, you can get a ballpark estimation of your shutter cost. Let's examine them.
What Affects Plantation Shutter Prices?
Since all Sunburst plantation shutters are custom-built for your windows, the cost will differ depending on your specific needs. Below are a few details that can affect the price of your shutters.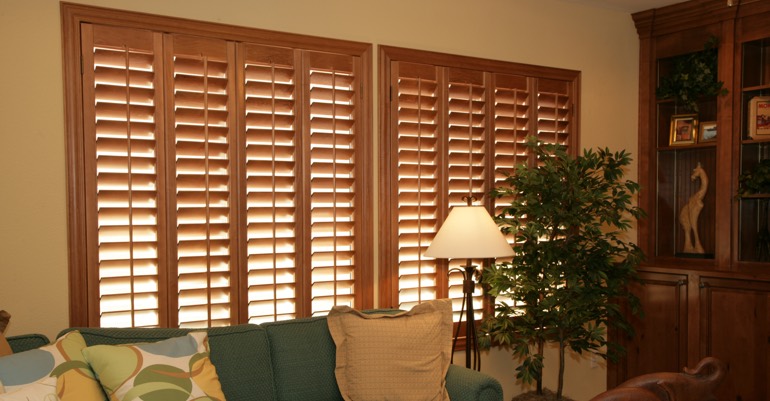 The Material Of Your Plantation Shutters
Our four types of plantation shutters all comprise separate materials. Polywood® plantation shutters and our new Studio™ shutters are constructed from a faux-wood compound, Ovation® wood shutters are constructed from real hardwood, and Reclaimed Wood shutters are built from repurposed wood.
Among our shutters, Studio shutters are usually the most budget-friendly, as they are designed especially to be the best fusion of value and performance. Polywood plantation shutters are also cost-effective, since Polywood is 100% American-made, eliminating costs from harvesting and shipping natural hardwood materials.
The Dimensions of Your Windows
In general, plantation shutters are priced based on square-footage, so it follows that larger window shutters will come with a higher price tag than shutters for smaller windows. Knowing the approximate height and length of your windows may help you generate an initial estimate, but don't worry too much about measuring as our team will get an exact measure for you during your free in-home consultation.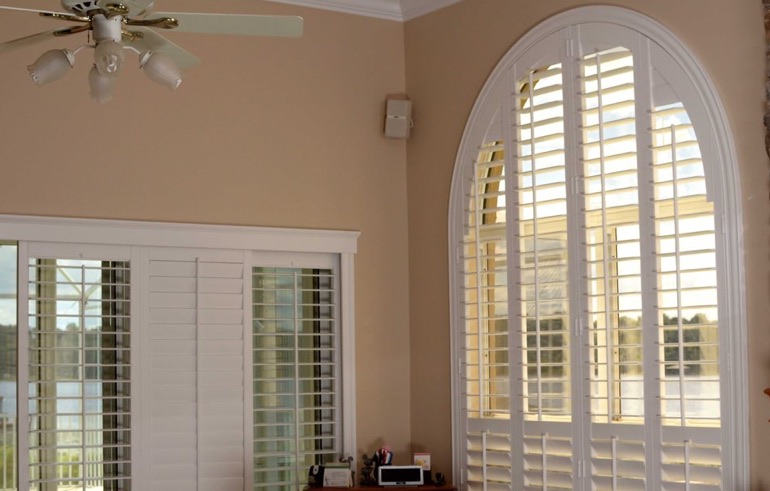 Uniquely-shaped or specialty windows might also add to the total cost compared to standard square or rectangular windows, because they take extra time and work to fit the exact specifications and unique geometry of your window. Specialty windows might also require extra installation work based on the quality of your pre-existing frame and wall.
There exist a number of other factors that may affect your shutter price: frame style, your preferred finish, or extra details like hidden tilt rods.
The lesson here is that there is such a large number of factors that can impact the price that asking "what's the cost of shutters?" is doing you an injustice by hiding the full picture.
Plantation Shutters - Perks Worth Investing In
Compared to different window treatments homeowners can choose in Houston, it's true that plantation shutters may require you to invest a little more. But when you think about the numerous perks that only plantation shutters can give you, the investment is incredibly attractive.
Energy Efficiency - Only plantation shutters offer best in class insulation and energy efficiency. Polywood shutters specifically are able to block nearly half of all heat transfer from your windows, whereas other window treatments can't even approach that level of protection. That results in cash saved on your home heating and A/C bills throughout the year.
Lastingness - What would you say is the average lifespan of a drapery or a set of blinds? A few years, perhaps more, if you're very lucky. Every time you replace a cheap window treatment is extra money out of your wallet and more time taken out of your life. But when you install plantation shutters, you can be sure that you're going with a window treatment that can last a lifetime. We even guarantee it.
Home Value - Homebuyers do their research, and they're aware of the benefits of plantation shutters. That's why, just like stunning new appliances or gorgeous tile floors, plantation shutters can increase home resale value.
Aesthetics - Perhaps more than any reason listed above, plantation shutters are so popular because they just look great. No other window treatment can compare to classic aesthetic or the unique look and crisp elegance as shutters.
Let's Talk
If you're wanting to take all the benefits of shutters home with you, Sunburst Shutters Houston is ready to help. Our window experts will come to your home, show you all your options and offer an accurate estimate for your project that satisfies all of your wants and needs.
To begin, set up a free in-home consultation by calling 713-853-9629 or filling out the form below. Let's find the right solution for both your budget and your home.